November 2019 Member of the Month: Leonard and Lois Green
November 2019 Member of the Month: Leonard and Lois Green
Leonard and Lois Green are the TOBA November Members of the Month
Racing is a real numbers game for accountant Leonard Green. After doing the math, he decided to go all in on horse ownership with wife Lois, which has paid dividends. "I'm a tax man by trade," he said, "so the uniqueness of the tax advantage is specific to the horse industry; it really intrigued me." And Green's savvy approach has paid off in spades. His top runners this year include 2018 champion juvenile filly Jaywalk, whom he co-owns with Cash is King LLC, and A Thread of Blue, who won the inaugural Saratoga Derby Invitational Stakes this summer.
Founder and chairman of The Green Group, which advises hundreds of clients in the Thoroughbred industry, Green races as DJ Stable, currently managed by son Jonathan. The Greens reside in Holmdel, New Jersey and first got started in the industry like so many others: a friend had a horse, and the rest is history.
Green recruited a team of the sport's top trainers, worked with different owners and breeders, and learned from others' expertise. He said, "Then I thought that really gives me a competitive advantage and then, as we keep on adding different trainers and breeders to it and syndicates, I see what they're doing and I see what the uniqueness is." He added, "And I can grab the best parts of each part of that thing and really get places, so that we keep on changing our game plan to see which part of it gives us our success."
This progressive approach—working with seven trainers, including John Servis, Gary Contessa, Kiaran McLaughlin, and Linda Rice, among others—has propelled the Greens to great success. They co-bred hard-knocking Hoppertunity, who earned nearly $5 million, and raced grade 1-winning fillies Do It With Style and November Snow (the last-named in partnership with Overbrook Farm). Other Green-owned runners, alone or in partnership, include Songandaprayer and Canadian champion Larkwhistle.
The Greens board their horses at two Kentucky farms—Taylor Made, near Nicholasville, plus Bill Betz's nursery. They own all or part of 70 horses in training, 30 broodmares. 20 yearlings, and 20 weanlings, and Len is an avid proponent of racing partnerships to get new owners involved in the game.
Servis purchased Jaywalk, a daughter of Cross Traffic, at the 2017 Keeneland September Yearling sale for $190,000. Last year, the attractive gray filly won four straight races, three of which were stakes, to earn an Eclipse Award. Lois recalled, "She was spectacularly beautiful, eye-catching and […]she was such a precocious two-year-old. She ran so well in her two-year-old year."
She added, "She won the Frizette [Stakes], which was a grade 1, and then went to the [Tito's Handmade Vodka] Breeders' Cup [Juvenile Fillies], which is also a grade 1. She always ran at the front of her winning races, which was kind of made me very nervous because, generally speaking, in a distance race, when a horse breaks first and continues to run quick fractions, a come-from-behind distance horse will catch them at the end of the race."
Jaywalk wired the field and waltzed home 5 ½ lengths in front. Lois said, "She just had such determination and grit to hold off any followers, and that's something you can't see at the sales. It's something either a horse has or doesn't have. In that sense, you do need a little luck. It's seasoning on top of the stew." This year, Jaywalk won the July 6 Delaware Oaks (G3).
Another Thread of Blue has garnered more laurels for the Greens. DJ Stable bought the Hard Spun colt for $430,000 at the 2018 March OBS Sale of Two-Year-Olds in Training. This year, he tallied the February 3 Dania Beach Stakes, March 2 Palm Beach Stakes (G3T), and the August 4, $1 million Saratoga Derby. For the last-named race, Lois said, "Kiaran was really able to get him to go the distance, which you're never sure because he's also a front-runner and to go a mile and a half for a front-running horse, again another really handsome, magnificent-looking horse, but looks are only good in the movies. You've got to have some quality behind the horse."
Another Green runner with quality behind her is two-year-old filly Another Miracle, third in the Nov. 1 Breeders' Cup Juvenile Turf Sprint (G2T) at Santa Anita. Together, the family makes their horses' success look easy. Lois said, "Well, fortunately, we've learned how to discuss without arguing and come to conclusions that are the best for the horses and for each other. And obviously we don't always agree on everything, but having great trainers to work with and good therapists" helps, she laughed, adding, "Family businesses are always interesting."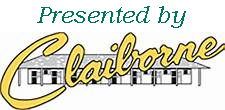 ---