May 2018 Member of the Month: Ramona Bass
May 2018 Member of the Month: Ramona Bass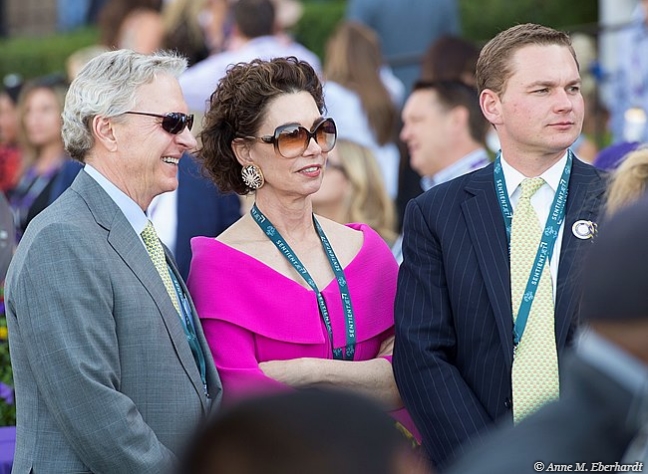 Ramona Seeligson Bass was bred to be a horsewoman.
Presented by Claiborne Farm
Best known for breeding top-class horses, Ramona Seeligson Bass herself was bred to be a horsewoman. After all, her father, the late Arthur A. Seeligson Jr., bred and raced 1975 Belmont Stakes (G1) winner Avatar. His daughter has carried on his legacy, breeding 2017 Sprint Champion Roy H and 2018 Arkansas Derby (G1) and Rebel Stakes (G2) winner Magnum Moon.
Growing up both in San Antonio and on her family's ranch in South Texas, Bass felt a deep connection with horses. "Well, first of all, it was always a family, a family affair with us growing up," she remembered. "Gosh, I remember being really little and being at Agua Caliente [in Tijuana, Mexico]."
Seeligson Jr. put his daughter to work at a young age. According to Bass, "He trusted me a lot, sent me to sales. I guess I'd have to say that he taught me to trust my instincts and to surround myself with people that I could trust that have your best interests at heart. I feel very confident with Claiborne Farm and [bloodstock agent] Steve Young and the trainers that we've picked."
Bass now resides in Fort Worth, Texas, with her husband, businessman and philanthropist Lee Bass. Recalled Bass, "After Dad died, we sold most of our stock, except for a couple of mares, which I kept because I was the only one in the family that really wanted to carry on, and so our mares stand at Claiborne and we've had a long-standing relationship with them."
She has passed on her love of horses to her son, Perry. "As a little, tiny boy, he loved the horses and when we'd go to Kentucky with Dad, he'd go everywhere with us," she said. Thirty-year-old Perry manages the family's equine interests with his mother. Bass added, "Having Perry so involved is the best part of all. I'm just really proud of him. He has grown through this time and he's passionate about it. I really couldn't do it without him. He's really knowledgeable and a huge help to me."
On behalf of Bass, Claiborne Farm's Seth Hancock purchased Magnum Moon's dam, the Unbridled's Song mare Dazzling Song, as a yearling at the 2009 Keeneland September sale for $825,000. The Bass-Hancock relationship has thrived for decades; Avatar stood at Claiborne after his racing career. Bass especially admires the experience and professionalism of Dell and Walker Hancock, saying of the latter, "He's just been fabulous to work with, so we're so pleased that family addition is carrying on there."
Bass tries to limit her broodmare band to about a dozen. She boards her broodmares at Claiborne and sells most of her colts. As a result, Claiborne consigned Magnum Moon as a yearling to the 2016 Keeneland September sale, where eventual owners Robert and Lawana Low scooped him up for $380,000.
Bass commented, "He was a lovely yearling, lovely, and then so for us, it's a huge treat, since we still have the mare and two sisters. We unfortunately lost the War Front foal that was born this year." Dazzling Song is pregnant to the cover of Magnum Moon's sire, Spendthrift Farm stallion Malibu Moon, and Bass plans to keep the resulting foal.
Bass also bred 2017 Breeders' Cup Sprint winner Roy H (More Than Ready – Elusive Diva, by Elusive Quality). After taking his 2018 debut, the Eclipse Award winner finished third in the Dubai Golden Shaheen (G1) last time out. His success was a surprise, since Elusive Diva hadn't performed well as a broodmare up to that point, leading Bass to sell her and her progeny.
She also races grade 1 winner Avenge, winner of the 2016 and 2017 editions of the Rodeo Drive Stakes (G1T). Bass stated, "I get emotionally involved with my horses, and that was part of the fun of having Avenge from a yearling and not buying her as a two-year-old or buying her as a maiden filly. We grew up with her and we spent time with her and we got to know her personality."
However, Bass added, "Of course, the dream is to breed and own a classic horse, a grade 1 winner, something that you can really be proud of and enjoy the ride. We've enjoyed Roy H, we've also enjoyed Magnum Moon, but I think breeding and owning would be the ultimate."
Renowned conservationists, the Basses also give generously to Thoroughbred aftercare charities and retire some horses to their South Texas ranch. For example, Bass said, "we turned a couple of the geldings into horses and they liked working cattle. They got all excited about the cattle. They just thought it was great."
---