Programs
TOBA's programs support our mission to improve the economics, integrity and pleasure of the sport on behalf of owners and breeders. Through our commitment to recruiting new owners to the industry, providing education through our clinics and seminars and enhancing owner and breeder experiences through programs such as the TOBA Owners Concierge and Sales Integrity Program. TOBA is the advocate for Thoroughbred owners and breeders.
Seminars, Clinics and Webcasts
TOBA offers educational, non-commercial seminars and clinics for prospective, new and established owners. TOBA's goal is to provide industry participants with the knowledge necessary to improve the likelihood for success in the Thoroughbred business.
About the International Thoroughbred Breeders Federation (ITBF)
History of the International Breeders Federation (ITBF)
Pre-2012 International Breeders' Meeting (IBM)
During the 1950s and 60s, the Breeders' Associations of Britain and Ireland (who share a common Stud Book) used to meet on a regular basis to discuss mutual issues. France joined them in 1968. This "Tripartite Group" met every year until 1973 with the venue alternating between the three countries. A representative from the USA joined shortly afterwards in 1974.
The whole purpose of these early meetings was to discuss problems common to each of those countries; to exchange information on equine diseases; to attempt to bring in uniform cataloguing standards, horse identity documentation, etc, and generally to obtain a better understanding of the breeding industry in each country.
In recent times the achievements of the ITBF are the establishment of the International Collating Centre in Newmarket; direct representation on the International Movement of Horses Committee; successful appeal to IATA to revise the conditions of air transport of pregnant mares, etc.
These four original countries considered themselves FULL members of this grouping. Other countries were initially invited as observers and later became Full Members having attended a sufficient number of Meetings. Current ITBF membership stands at sixteen Full Members from the major Thoroughbred producing countries of the world:
ARGENTINA (1998)
AUSTRALIA (1983)
BRAZIL (2000)
CANADA (1983)
CHILE (2001)
FRANCE (original)
GERMANY (1985)
GREAT BRITAIN (original)
INDIA (2012)
IRELAND (original)
ITALY (1985)
JAPAN (2003)
NEW ZEALAND (1983)
SOUTH KOREA (2012)
SOUTH AFRICA (1983)
USA (1974)
The ITBF 'family' also includes the following Associate Members; European Federation of TBAs (EFTBA); SWITZERLAND.
Historically, invitations have been issued to the widest possible range of countries, but sadly there is not always a response.
The emphasis at these meetings is on equine matters internationally. Over the years, we have achieved vast improvement in the wide dissemination of all kinds of equine information. Contacts have been made, and visitors from one country to another have been welcomed, due to links with these gatherings. Of the delegates present at meetings, most represent a country's official Breeders' Association. We do ask everyone to "Think International" during discussions, for that is the reason we are in existence!
At the 2012 meeting the IBM title was changed to emphasise the connection to the Thoroughbred, hence International Thoroughbred Breeders Federation (ITBF). The ITBF Mission Statement was also agreed:
• To provide a platform for member countries to reflect, solve problems, educate and create opportunities for mutual collaboration and assistance.
• To address the various external challenges and opportunities faced by the International Thoroughbred Breeding Industry.
• To act as a liaison body with racing and allied institutions and authorities, so that the International Thoroughbred Breeding Industry is represented and given space on worldwide forums.
TOBA Owners Concierge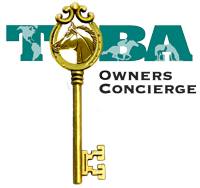 The Thoroughbred Owners and Breeders Association's Owners Concierge is dedicated to the encouragement of excellence and growth in the horse racing industry by providing owners with exceptional customer service, timely information and access to local resources. The goal is to ensure an exciting and successful off-track as well as on-track experience by serving the diverse needs of Thoroughbred owners.
In this day and age with time being limited, the TOBA Owners Concierge is geared toward offering peace of mind by providing clear and concise information, presented in an organized and easily accessible format. The concierge service is an owner-based initiative that, both directly and indirectly, caters to the Thoroughbred owners' needs, as well as serving as a liaison between the horse owner and the racetrack in addition to facilitating relations with the extended racing community.
Thoroughbred OwnerView

Thoroughbred OwnerView is a free information website developed jointly by The Jockey Club and Thoroughbred Owners and Breeders Association for new, prospective and current Thoroughbred owners. OwnerView includes a wealth of information about Trainers, Racing Syndicates, Getting Started, Licensing, Racetracks, Veterinary, Aftercare, Publications and State Incentive programs.
Read below for a brief description of what you will find on OwnerView.
Trainer Information
Racing Syndicates
Getting Started Owning Thoroughbreds
Owner Profiles
Racetracks
Veterinary
State Incentives
State Licensing
Aftercare
Publications & Books
Sales Integrity Program
At the behest of the Thoroughbred Owners and Breeders Association, the Sales Integrity Program Task Force was developed in response to an expressed desire within the Thoroughbred Industry to improve the opportunity for buyers at public auction sales to feel informed, understand the various aspects of the process and be confident they were being fairly treated. The project was specifically geared toward the needs of new investors, but not designed exclusively for them. At the same time, it is recognized that the interests of consignors, breeders, agents, veterinarians, trainers, sale companies and horses need also to be protected and that the Thoroughbred auction scene inherently involves risks for all concerned.
The 22-person committee spent many hours, over several months, developing a Code of Ethics for public auction. The Code of Ethics incorporates issues of disclosure of ownership, dual agency (the practice of an agent accepting a commission from the buyer for purchasing/bidding on the horse on the buyer's behalf and also accepting any commission or other commercial benefit from any party involved with the selling/consigning of the same animal, without disclosing this) and includes a sample agent disclosure agreement and a veterinary dual agency agreement.
TOBA provides Sales Integrity Program literature and materials to all of the major sales companies for distribution and display at their auctions. TOBA works to provide the education necessary for owners and breeders to make informed decisions at public auction.
National Awards Dinner
Each year, TOBA honors owners and breeders from 24 states and Canada (TOBA state network). Also honored five Finalist for National Owner of the Year,  from those five TOBA names a National Owner of the Year, two National Breeders of the Year (small breeder/large breeder), Broodmare of the Year, Rood & Riddle Sport Horse of the Year, National HBPA Claiming Crown Horse of the Year, and the Robert N. Clay Award (recognizing a member of the Thoroughbred racing community who has made an outstanding contribution to preserving land for equine use).
The 33rd annual National Awards Dinner was held on Saturday, September 8, 2018 at the Woodford Reserve Club at Kroger Field in Lexington, Ky.
Click here for 2018 National Awards Dinner Program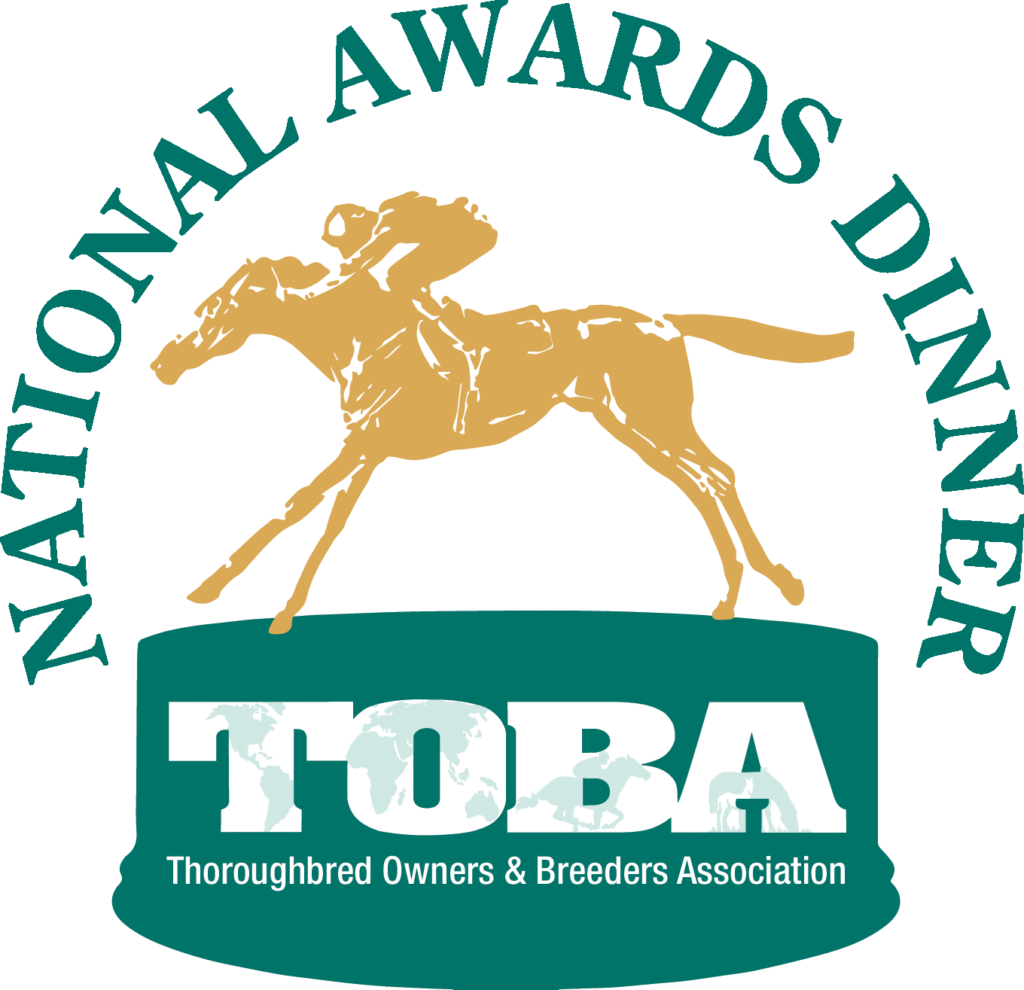 Congratulations to our 2018 award winners!
State Breeders of the Year
Arkansas: McDowell Farm
California: Richard Barton
Canada: K-5 Stables
Florida: Charlotte Weber/ Live Oak Stud
Illinois: Nancy Vanier
Indiana: Michael E. and Penny S. Lauer
Iowa: Allen Poindexter
Kentucky: Charles Fipke
Louisiana: Bertram & Richard Klein
Maryland: Howard Bendor
Massachusetts: Joseph DiRico
Michigan: Lisa Campbell
Minnesota: Curtis Sampson
New Jersey: Isabelle Haskell de Tomaso
New York: Chester and Mary Broman
North Carolina: Nancy Shuford
Ohio: Robin Murphy
Oregon: James and Carol Owens
Pennsylvania: Elizabeth Moran
South Carolina: Franklin G. Smith, Sr.
Texas: Craig Upham
Virginia: Mr. Mrs. C. Oliver Iselin
Washington: Tim and Nicole Floyd
Finalist for Owners of the Year
eFive Racing
Godolphin
Juddmonte Farms
Rockingham Ranch
Winchell Thoroughbreds and Three Chimneys Farm
National Owner of the Year
eFive Racing
National Small Breeder of the Year
Isabelle Haskell de Tomaso
National Breeder of the Year
Charlotte Weber/ Live Oak Stud
National Broodmare of the Year
Win Approval
Claiming Crown Horse of the Year
Mended
Rood & Riddle Sport Horse of the Year
Argyle
Robert N. Clay Award
George Strawbridge
Thank you to our 2018 Awards Dinner sponsors!
Thank you to the following dinner program advertisers. We appreciate your support!
Adena Springs/The Stronach Group
Andre Regard
BloodHorse
Bourbon Lane Stables
Breeders' Cup
California Thoroughbred Breeders Association
Claiborne Farm
Claiming Crown
Classic Legacy Thoroughbred Aftercare
Coolmore
Daily Racing Form
Equibase
FarmPaint.com
Fasig-Tipton
Florida Thoroughbred Owners and Breeders
UK College of Agriculture, Food & Environment
Godolphin
Indiana Thoroughbred Breeders Assocation
Iowa Thoroughbred Breeders Assocation
Jackson Family Wines
Juddmonte Farms
Kentucky Derby Museum
Kentucky Thoroughbred Association
Lane's End Farm
Limestone Bank
Louisiana Thoroughbred Breeders Association
McGriff Insurance
New York Thoroughbred Breeding & Development Fund
NHBPA
NTRA Advantage
NTRA Legislative
RedBrand
Retired Racehorse Project
Rhinebeck Equine
Rood & Riddle Equine Hospital
Shadwell Farm
Spendthrift Farm
Stoll Keenon Ogden
H.E. Tex Sutton
Texas Thoroughbred Breeders Assocation
The Horse
The Jockey Club Info-Equineline
The Pond Lady
Thoroughbred Breeders Association of New Jersey
Thoroughbred Charities of America
Thoroughbred Owners Conference
TOBA
Visit Horse Country
West Point Thoroughbreds
West Virginia Breeders Classic
Winstar Famr
Woodbine
Woodford Reserve
Claiming Crown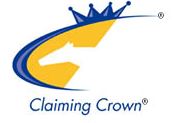 The Claiming Crown is a partnership between the National Horsemen's Benevolent and Protective Association and the Thoroughbred Owners and Breeders Association. The Claiming Crown was envisioned to be the claiming horse owner's Breeders' Cup; a special racing event, created for the sometime-forgotten "average owner," and featuring some of the most competitive horses in the country. Every horse owner, regardless of the level at which their stable competes, has an equal chance to participate, as the Claiming Crown is open to all claiming horses irrespective of where they were foaled or race.
The Claiming Crown, which consists of nine races worth $1.1 million in purses, has been held annually since 1999 and has become the highlight on the racing calendar for horses which have started for claiming tags between $7,500 and $35,000.
Thoroughbred Charities of America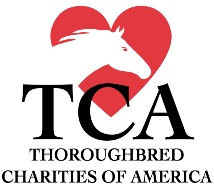 TCA's mission is to provide a better life for Thoroughbreds, both during and after their racing careers, by supporting qualified repurposing and retirement organizations and by helping the people who care for them. TCA grants funds to organizations in four categories including: Thoroughbred retirement, retraining and rehoming; research; backstretch and farm employee programs; and equine-assisted therapy programs. With the support of the Thoroughbred industry, TCA has distributed over $21 million in grants to more than 200 Thoroughbred-related non-profit organizations. TCA is a 501(c) (3) organization, governed by a Board of Directors. TCA is the charitable arm of TOBA.
TCA's largest annual fundraiser is a Stallion Season Auction held each January in Lexington, Kentucky. For more information please visit www.tca.org.