October 2016 Member of the Month: Josephine Abercrombie
J
osephine Abercrombie's Pin Oak Stud, located in Versailles, Ky., reigned supreme at the sales in recent months. On August 9, Mandy Pope of Whisper Hill Farm scooped up a sale-topping $1.45 million yearling, bred by Pin Oak and consigned by Denali Stud, at Fasig-Tipton Saratoga. The Medaglia d'Oro filly, out of stakes-winning Pin Oak homebred Whisper to Me (by Thunder Gulch), hails from one of Abercrombie's most fruitful female families.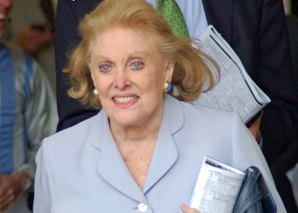 Just over a month later, on September 16, WinStar Farm acquired a Pin Oak-bred son of More Than Ready for $500,000 at Keeneland September. Consigned by Elm Tree Farm, the athletic-looking colt is out of Winsome Ways, also dam of graded-placed Poseidon's Way. Beautifully inbred 3×3 to blue hen No Class (dam of late champion and former Pin Oak stallion Sky Classic), Winsome Ways is a half-sister to two stakes winners and promising runner Secret Passage.
"She was a big, pretty filly," recalled Clifford Barry, general manager of Pin Oak, of the Medaglia d'Oro yearling. By mating large, handsome Medaglia d'Oro to medium-sized Whisper To Me, the pair hoped to produce a foal with "stretch and scope." But no one could have anticipated her success. Added Abercrombie, "We were not expecting it and we were thrilled."
A half-sister to Abercrombie's homebred grade II winner Overheard, Whisper To Me hails from the clan of Pin Oak homebred Confessional, winner of the 1998 Frizette Stakes (gr. I). For Pin Oak, Confessional has foaled Ready to Confess, who's been knocking on the door of a graded win in 2016. Abercrombie bought into this family in 1996, when Barry purchased Whisper Who Dares, in foal to Mt. Livermore, for $170,000 at Keeneland November.
Currently, Pin Oak stands three stallions, including two homebreds: Broken Vow, who sired a $1.2 million colt at OBS April this past spring, and millionaire Alternation. The latter's first foals are yearlings of 2016. "He's been very good," said Barry, noting the "big, grand-looking horse" sired a yearling who went under the hammer for $160,000 at Keeneland September.
Of Broken Vow, Abercrombie enthused, "He's a wonderful horse. He's my favorite. I just love him. And he's very good-looking. Every time I walk in the barn, he looks at me and wants me to bring him sugar." Barry concurred, saying that the son of Unbridled "gets you some very sound offspring."
Other sires who once called Pin Oak home include aforementioned Sky Classic; Maria's Mon, sire of two Kentucky Derby winners; and Canadian grade I winner Peaks and Valleys, whose successes on the track led Abercrombie to become the first American Canadian Breeder of the Year in 1995. Peaks and Valleys hails from one of Abercrombie's most successful families: that of Strike a Pose (by Green Dancer).
Abercrombie first bought into the family almost 50 years ago by purchasing Strike a Pose's dam, Take a Stand, a purchase that proved worthy. Strike a Pose was the second dam of Peaks and Valleys and stakes winner Alternate, as well the third dam of Alternation, Broken Vow, and graded winners Cryptograph, Equality, I Thee Wed, Eleusis, and champion Forever Together (the latter two for other breeder/owners).
Abercrombie keeps her broodmare band trim while nurturing longstanding female families and supporting her own stallions.  "We generally keep a broodmare band of about 35 mares," said Barry. "There's a constant shuffle, trying to always make your program better." He added, " Anybody will tell you in this business you can't keep them all. If you did, we'd have to buy another farm. It really just comes down to how many females you've got from that family." For example, he estimates that about half of Pin Oak's current broodmare band is made up of mares from the family of Strike a Pose.
Although Pin Oak does sometimes breed or purchase for a concentration of its own star bloodlines, Barry and Abercrombie regularly breed to proven stallions for an influx of new blood. Barry said, "We try to do about two-thirds of the mares-we go outside the farm to proven stallions. We've always tried to do that and we go to the proven horses with those mares." The other third of Pin Oak's broodmares goes to its stallions, rounded out by multiple graded winner Cowboy Cal. Abercrombie and Barry work together, analyzing pedigree and physicals. "Well, we just study them carefully and look at the photos and hopefully go on with it," she said.
But, as a true horsewoman, Abercrombie's focus always remains on the animal itself. An entire section of her farm is devoted to caring for retired broodmares and other horses. "They get to live out their life in pretty good style here," Barry said. "We just try to take good care of them."