June 2019 Member of the Month: Richard Klein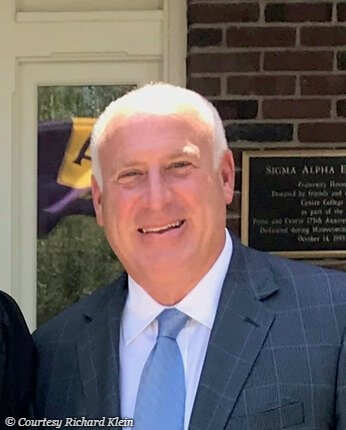 Richard Klein is the TOBA June Member of the Month
Breeding and racing horses with his late parents, Bertram and Elaine, Richard Klein experienced great heights. Continuing their legacy, Klein now bred and races undefeated Break Even. Carrying the Klein family's distinctive lime green silks, accented with black chevrons, the sophomore filly streaked to a 5 ½-length victory in the May 3 Eight Belles Stakes presented by Derby City Gaming (G2) at Churchill Downs.
Louisville resident Klein boards his ten broodmares at Fred and Nancy Mitchell's Clarkland Farm near Lexington, Kentucky. Modestly, he recalled, "I remember asking Fred recently, 'Did you like Break Even as a foal?' and he said, 'She was a nice foal.' It was nothing really about her that wowed him, other than that she was a typical Country Day baby." Both Amy LoPresti, who breaks Klein's horses with husband Charlie, and trainer Brad Cox—plus his assistant Tessa Bisha—also noted Break Even's progress at two.
After allowing Break Even some time to rest her shins, Cox entered Break Even in a Fair Grounds turf maiden race this January 1. He said, "Fortunately for us, it came off the turf, because I'm not sure we would have ever put her on the dirt."
Of Break Even's five-length romp, Klein added, "So she ran a huge race that day in the slop and it was the type of race that we hoped." Next up came an optional claiming event, also at Fair Grounds, which favored Break Even dominated by 4 ¼ lengths. Cox took her to Oaklawn Park for the Purple Martin Stakes, which the filly also won easily. Klein enthused, "Once the gate opened, the race was over. She's getting better and better and stronger and stronger, and the same thing happened in the Eight Belles. It was really an emotional time, knowing that I own the stallion. We own the mare; the mare, unfortunately, we had to put her down at the beginning of the year."
The Kleins bred and raced the filly's sire, turf sprinter Country Day. The son of Speightstown currently stands at Lora Pitre's Peach Lane Farms near Opelousas, Louisiana. He bred and raced all three of Country Day's stakes winners thus far. He added, "Knowing that this is still a family business, even though my parents aren't alive, they're still a big part of it. That's why I changed the ownership to Klein Racing and hopefully one day my kids will get involved with me; I know they want to. It was basically a win-win when you own the stallion and you own the mare. You win a grade two in your backyard on one of the biggest days of the year."
Of lifelong equestrian Elaine Klein, Richard recalled, "She passed a love of the horses down to me and we decided that we always wanted to get into the business." Mother and son began a racing partnership in 1987. Bert Klein then struck out on his own; Richard merged the two into Klein Family Racing in 1998. In that time, the Kleins joined TOBA and value the resources. Richard noted, "I just remember getting involved because we are breeders and we thought it was a good organization to join," calling TOBA an "important organization to get behind and support."
The Kleins named many of their graded stakes winners for their patriarch. Their outstanding homebreds included multiple graded stakes-winning half-siblings Hurricane Bertie and All-American Bertie, both out of Clever Bertie. Klein bloodlines have benefited other breeders, as well. Another daughter of Clever Bertie, Bashful Bertie (by Quiet American), produced multi-millionaire Beach Patrol, who scored in the 2017 Arlington Million Stakes (G1T). Klein estimates that his family's horses have scored about 120 stakes wins, 28 of which were graded.
Klein Family Racing continues to remain focused on Richard, his wife, and their children. Klein added, "Oh, I'm looking forward to it, that they can partake in it. I know the relationship that is about to develop. I always had a great one with my parents, but to be able to talk with my parents every day because of the horse business, it made…[family]….a lot more closer for us and it was not only a partnership…it was a family partnership and I don't think you can ask for any better partnership than having family…"